Gravity Fiber Strainers | Paper Making and Pulp Mills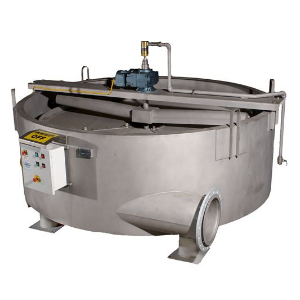 Gravity Strainers are designed to strain large amounts of "white water", water with large amounts of suspended solids. These units are for application where the concentration and the flows are too high for pressurized filters.
Manufactured from 304L or 316L Stainless Steel
"Bottom Up" design for more efficient cleaning
Self-Cleaning nozzles for on the run nozzle clearing
Split and Quadrant design for easy screen maintenance
Top Ten Reasons To Own An Osprey
No trapping or driving solids through screen openings.
Fibers that "staple" are continuously removed by bottom up spray showers.
Easy visual performance check, inspection and infrequent maintenance. (1-2/years)
Performance can be "Fine Tuned" (variable speed motor) for change in concentration or flow rate.
Easy to install, self contained modular unit.
Small floor space compared to a number of inline strainers.
No long shutdown required for cleaning.
Proven Return On Investment.
Start-up assistance and pilot tests.
Two-year warranty on material and workmanship.
Gravity Strainer Video
Osprey Gravity Strainer Brochure
Osprey Gravity Strainer 3D

Click on the product to have access to the Request a Quote form.