THE VOONER QUALITY CONTROL PROCESS
to optimize your vacuum equipment solution
Vooner studies customer vacuum requirements of their process and combines this with the customer's economic reason for needing a solution. Vooner offers capabilities of equipment to improve the customers cost of vacuum. Vooner's engineering solutions are flexible with alternatives offered. Complete system packages are easily developed and proposed to ease customers' installation of new equipment
Quality control is assured starting with receipt of initial customer specifications, through engineering, assembly, inspection and during final performance testing. Records of the performance tests of vacuum airflow with power consumed and vibration readings are kept on file by serial number for every pump shipped.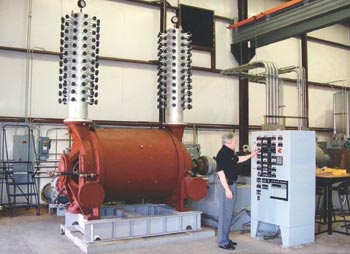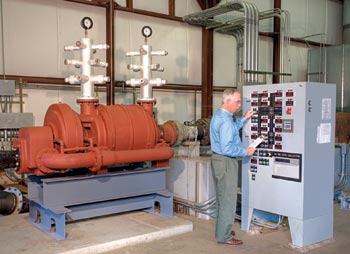 Specifications
Vooner is founded on the principles of mechanical and thermodynamic engineering and quality control. For testing pumps, Vooner uses the methods for testing vacuum pumps specified by the Heat Exchange Institute (HEI), USA. For casting and machined parts, Vooner uses guidelines from American Standard Testing Methods (ASTM). For dimensions, Vooner follows the guidelines of American National Standards Institute (ANSI), Deutshes Institut fur Normung (DIN) and Japanese Industrial Standards.
Tested and Guaranteed
Most Vooner pumps are performance tested in Charlotte, NC, U.S.A., according to HEI specifications prior to shipping to the customer. Plans are in place to test larger pumps in Greeneville, TN. Our rigorous quality control dimension inspections and performance tests guarantee that each Vooner pump matches the capacity and power consumption quoted and shown on our marketing performance curves.
Orifice Plate Testing
Vooner strongly advocates measuring airflow at vacuum of installed pumps based on Heat Exchange Institute (HEI) standards and TAPPI TIP. Boroscope visions are limited to report internal corrosion and erosion of an used worn pump. Vooner FloGard testing and report writing services provides a benchmark basis to compare operating costs projected for a number of years and a basis for an ROI for replacing a worn pump, using customer costs of
Seal water, mill water cost, $/1,000 gallons
Electrical energy cost, $/kw-hr